_____________
The Collage Techniques of Anne Marie Grgich
Collage + Painting
Instructor: Anne Marie Grgich
4-Week Class • 9 Lessons
Class Dates: April 17 – May 11, 2018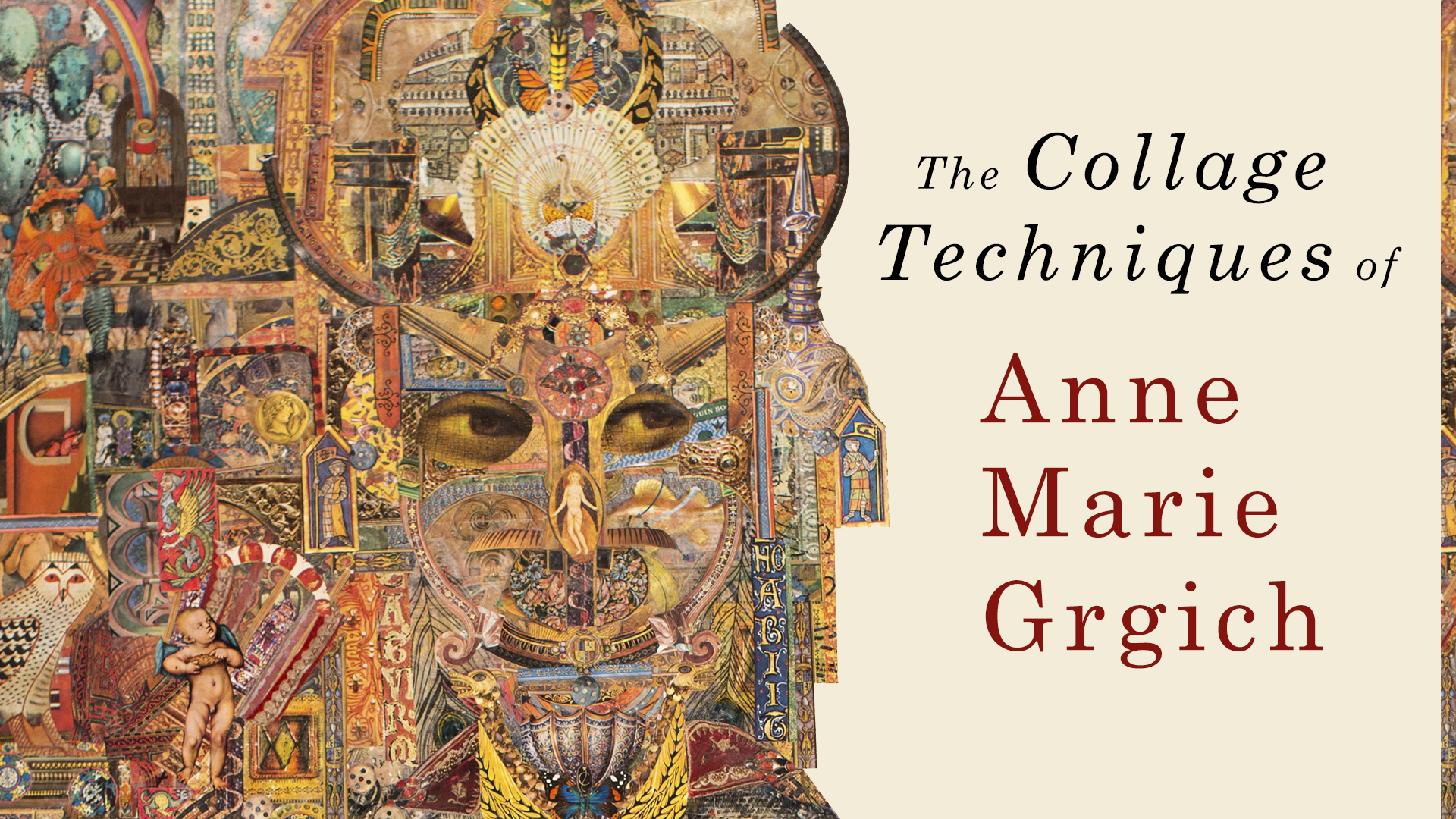 "Anne Marie Grgich is one of the most original and innovative artists in the group of American artists known as Outsiders. Completely self-taught and the cover story of Raw Vision Magazine (#22), she became known for her one-of-a-kind books filled with page after page of impassioned, expressionistic faces and figures. Grgich often employs collage and vigorously applies layer after layer of overpainting, covering found texts and images, yet allowing some of the underneath to remain visible. This layering suggests generations of mystery and mystique to her exotic characters."               — by Phil Demise Smith, 1998 
* * *
We are grateful to be able to bring you this 9-lesson, 4-week online class where Visionary artist Anne Marie Grgich generously shares her process refined from her lifelong passion for making art. Incorporate Anne's creative approach and techniques to augment your skillset. You will learn step-by-step the Grgich technique as she demonstrates mixed-media elements of ornamentation, printing, drawing, painting and cold wax treatment.
You will learn how to assemble overlays of collage and cutouts and build up colour fields and use subliminal tactics, like overpainting collage with "glow in the dark" paint, to achieve a deep transparent layering.
In this class you will create a large, compelling, mosaic-like collage painting filled with complexity.
____________________________
A selection of art made with the techniques Anne shares in this class: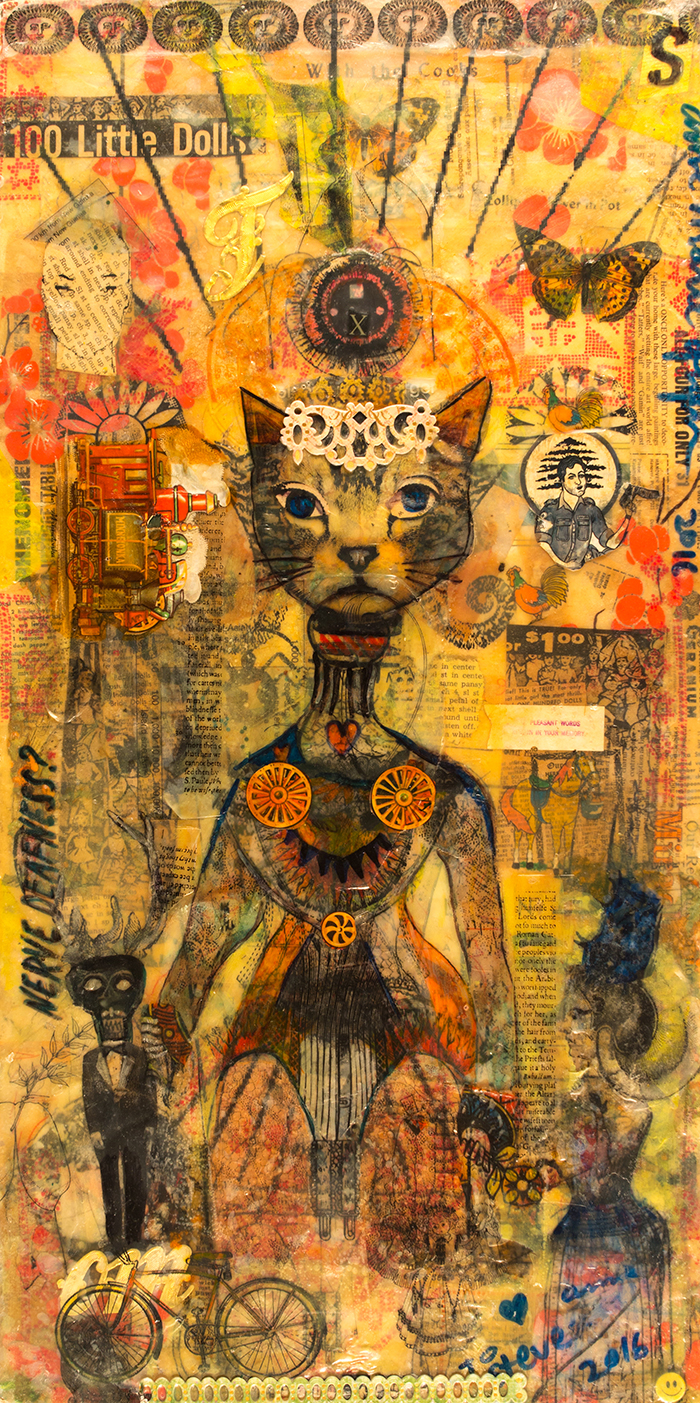 Detail: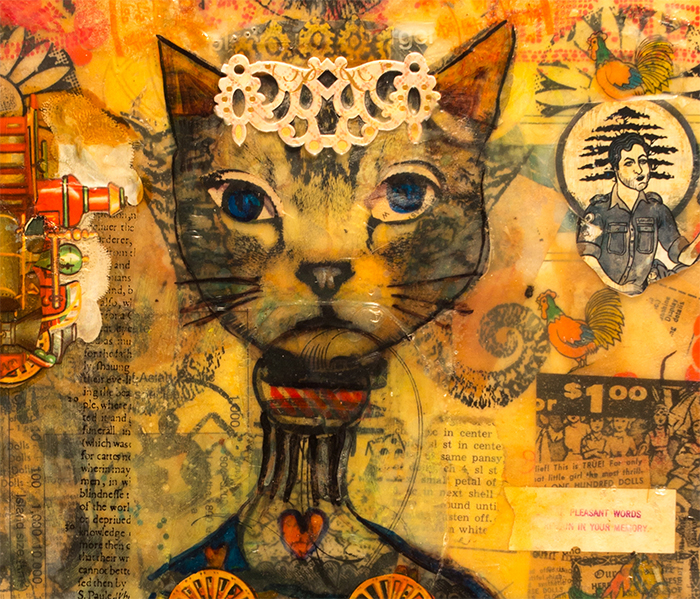 Figures: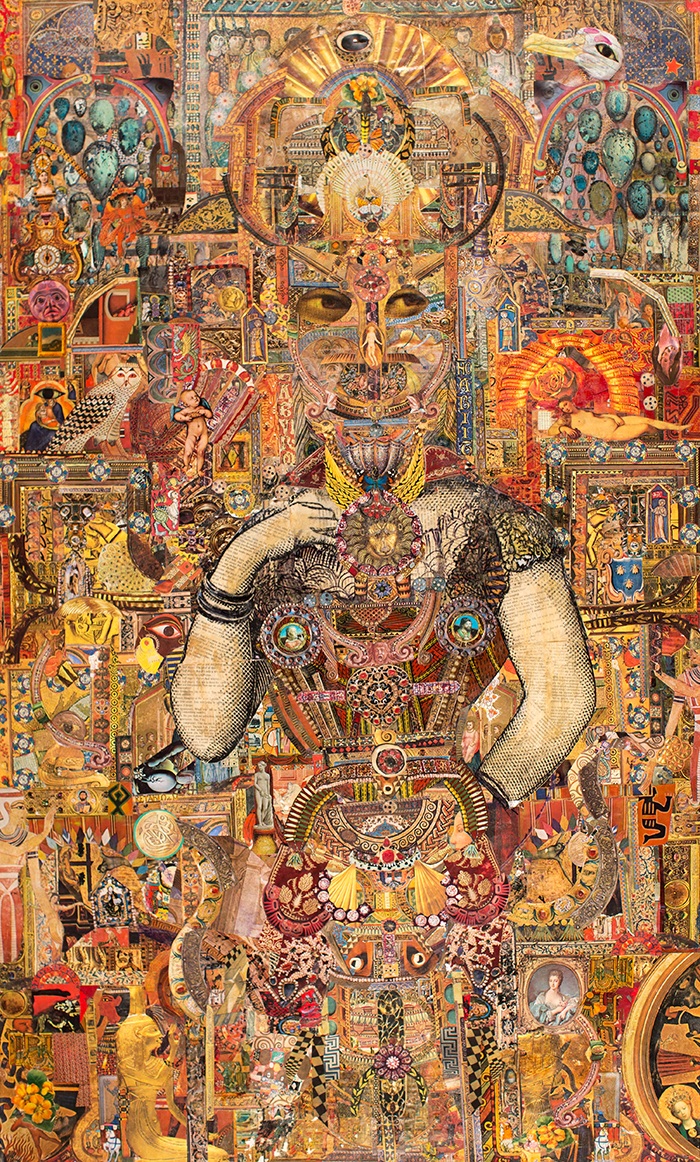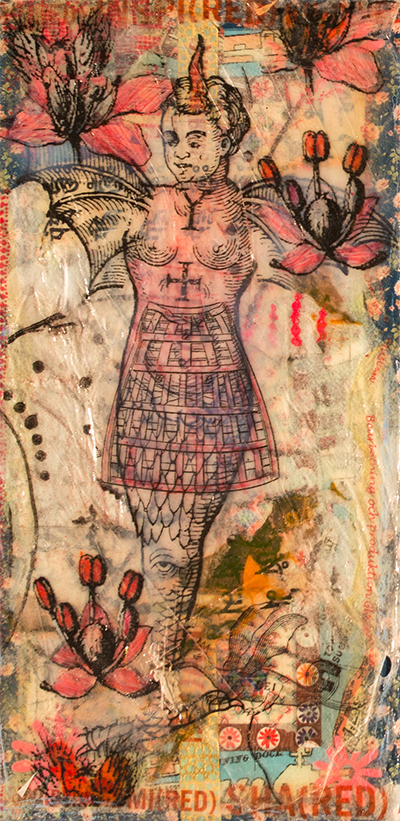 Faces: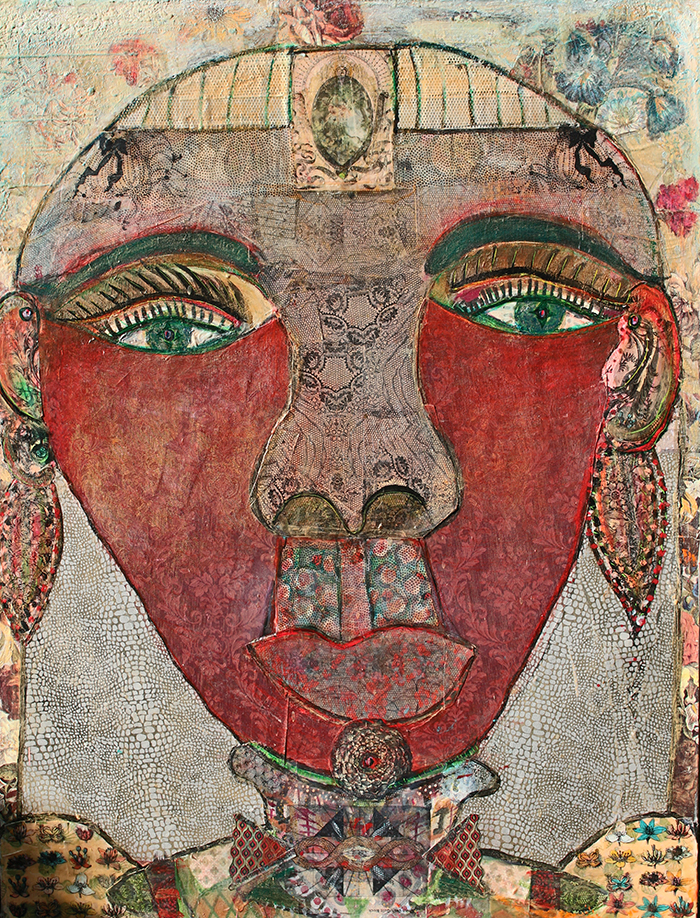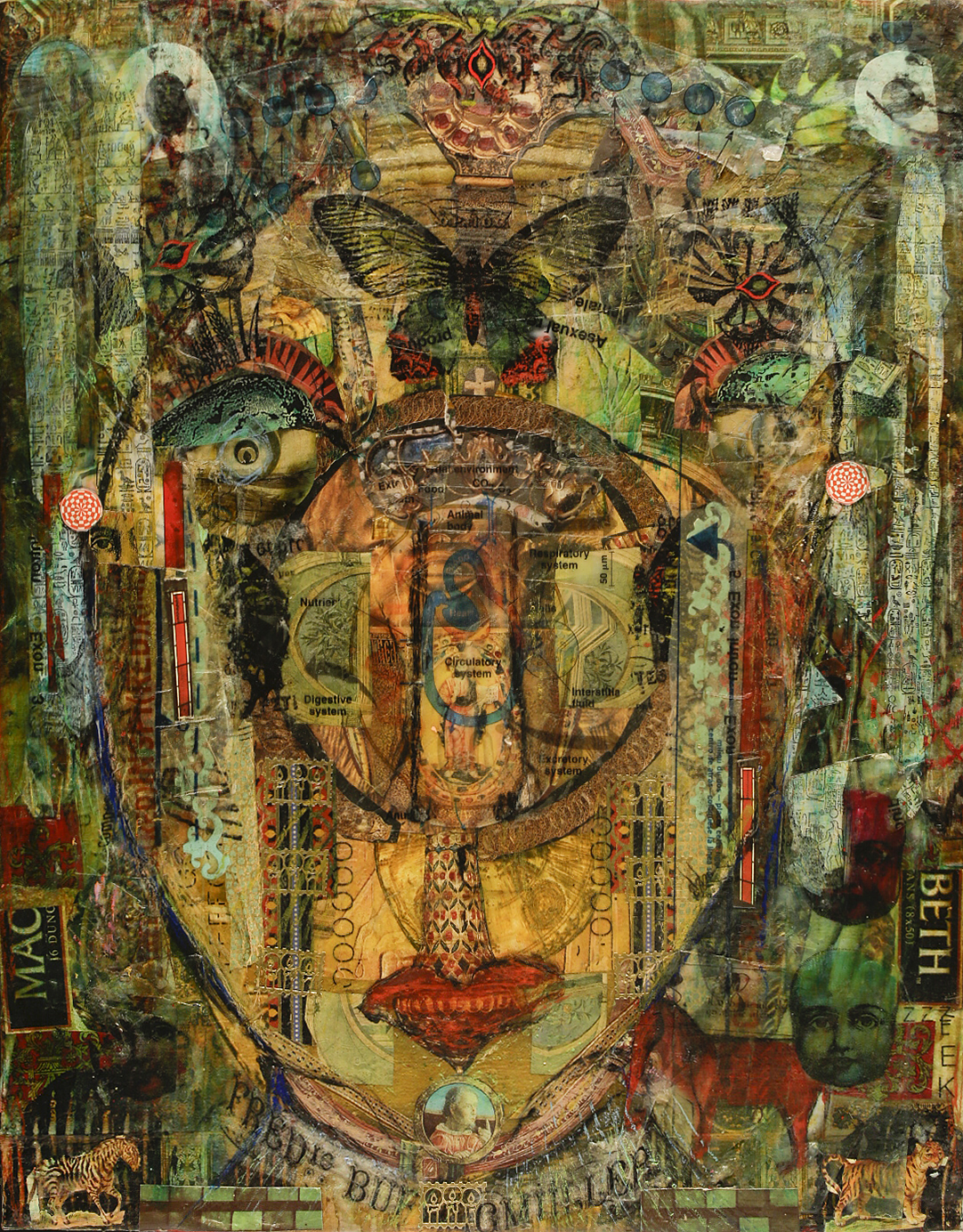 "It's fun to be weird."
– Anne Marie Grgich
Anne will also share with class participants an extensive pdf of clip art imagery she uses in her own work. Please join us for this unique opportunity to create alongside the wonderful Anne Marie Grgich!
CLICK HERE FOR DETAILS AND TO SIGN UP!
__________________________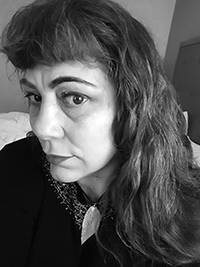 Born in Portland, Oregon in 1961, Anne Marie Grgich began making spontaneous art at the age of 15, mostly junk constructions and clandestine paintings in her family's books. She first introduced collage into her work around 1988, but took it to a higher level in 1997 during a period of illness. After her recovery she began to produce collage paintings – images of people encountered over time in the street and in mind journeys that manifest themselves and recombine, according to her mood, in the process of creation. Over the past 30 years, Anne has been featured in numerous publications and exhibitions, and her books and paintings are in public and private collections worldwide.
Anne was mentioned in
The New York Times
in January 2018 and is exclusively exhibiting her prolific work with
ZQ Art Gallery
in NYC and New Jersey City (visit their site in April when they hold a huge international auction of her work!). Anne lives with her sweetheart and collaborator Steve Fisk, Seattle record producer. Together they create and support each other and live in the Ballard neighborhood.