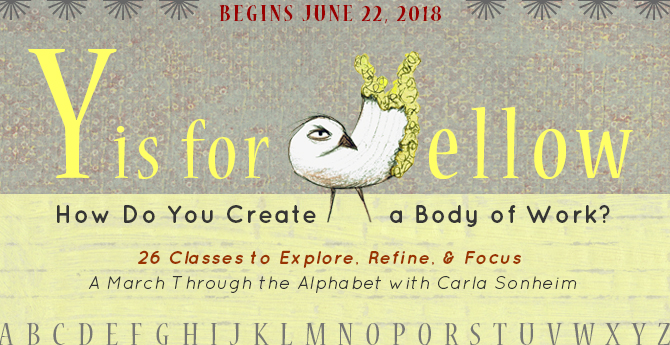 Y is for Yellow (Summer!): A 26-Lesson Class
Instructor: Carla Sonheim
Drawing, Painting, Mixed-Media • $99
Class Dates: June 22 – August 3, 2018 
_______
Hello!
In 2016 we ran a year-long class titled "Y is for Yellow." We are re-running the class over six weeks this summer, with the all of the videos for each original session dropped every other Friday… it is a lot of content! But by giving it to you all at once, you will be encouraged to pick and choose the lessons that are particularly interesting to you this summer, and leave the rest for later (you have forever access!).
Summer Schedule:
Lessons A – J
Friday, June 22, 2018
10 Drawing Assignments • 4 Mixed-Media Lessons
Friday, July 6, 2018
Lesson K – R
8 Drawing Assignment – 3 Mixed-Media Lessons
Friday, July 20, 2018
Lessons S – Z
8 Drawing Assignments – 3 Mixed -Media Lessons 
If you missed "Y is for Yellow" the first time, please join us now! (And if you have a busy summer, don't worry! You can always do this as a self-study class.) If you previously signed up for "Y is for Yellow" and would like to join in this summer, email me and I will put you on the list.
Below is the original class description and video for this class! 
Thank you!
Carla
Welcome to my 2016 year-long online class:
"Y" is For Yellow!
(And no, we won't paint everything yellow! 😀 )
In this class we will march through the alphabet as a fun way to move through our year ("P" is for Picasso! "C" is for Collage!), while tackling the more serious question,
"How do you create a body of work?"
As mixed-media artists we are always trying new media and experimenting with new techniques — which is awesome! But what can happen is we don't take the time to focus long enough on the things we really love so that we can create a cohesive series that is uniquely ours.
I have found a lot of value working in series over the years; choosing and sticking with one media/subject matter for a period of time really has helped me… and I will share with you what I can about the process.
Are you ready to work hard in a fun environment? Let's refine, focus, and create a body of work this year!
Praise for Y is for Yellow:
"In my opinion, you are a gifted instructor, who actually makes art fun, and I look forward to learning more from you." — Jo
"Your style of teaching is warm, genuine and clear." — Sheri
"Carla and her co-teachers inspire not just making art but also a sense of community among the students, of whom many have been making art for quite some time and others are new to it. This sense of community shows itself in the way everyone shares art — within a closed group on Facebook — and comments in a wonderful, supportive way." — Corinne