Hi everyone!
Kids Art Week 2019 is now open for registration! The dates are M-F, July 22-26! In the past we've had over 5,000 kids and kids-at-heart sign up… please join us for another week of fun art projects!
Every summer we offer a week's worth of free art classes for kids on their summer break. And while they're aimed at engaging the imaginations of younger kids, we've found that people of all ages and abilities have fun taking them, so feel free to jump in no matter how old you are!
This class is totally free—really! To access it, simply go HERE and click on the Add to Cart button and go through the checkout process. You can then follow this class in your Online Classroom. And if you liked this class, be sure to check out our other free Kids Art Week classes as well as some of our paid offerings.
We hope you enjoy this class. Click HERE to sign up!
Sincerely,
Carla
P.S. This year we have a wonderful Guest Instructor from the Netherlands, illustrator Nelleke Verhoeff!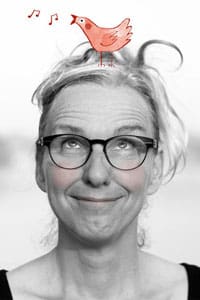 P.S.S. The theme this year is "sidewalk cracks," so the first thing you'll need are some printouts of some cracks! Here is the link for the PDF of the 15 cracks you'll want to have on hand to choose from this week… just print out on regular computer paper! SWCtearout1KAW
*If you don't have a printer, don't want to print or just would love to have as many cracks as you desire easily, I've created a book which contains 150 total cracks (10 each of the 15 designs)! The cost for the book is $15.99 and can be found HERE.
---
Class Itinerary
Lesson 1 – Sidewalk Cracks!
Lesson 2 – Sidewalk Story Book
Lesson 3 – Sidewalk Crack Collage (with Nelleke!)
Lesson 4 – Find a Bird In It
Lesson 5 – Packing Tape Animals