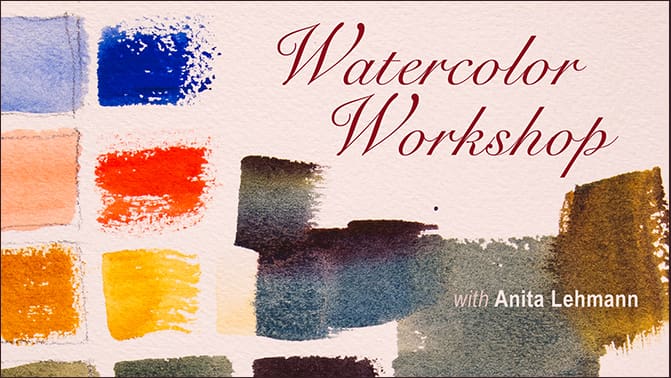 Watercolor Workshop with Anita Lehmann
Class Dates: September 15 – October 1, 2020
7 Lessons • $72.50
__________________________________
Dear Creative Adventurers:
In seven creative sessions we will develop an understanding of transparent watercolor, discover its characteristic four variables and work with the beauty of the paint. Whenever I work with watercolor I am excited to see where the paint takes me!
Painting with watercolor has its challenges, and in this class I'll share "cut-to-the-chase" techniques for making vibrant and expressive pieces. We will try to eliminate some of watercolor's challenges: muddy paint, weak colors, paintings overworked, feeling a lack of control, or too many colors to manage. These step-by-step lessons begin with getting comfortable with your tools: paint, water, a few brushes and paper. We will investigate properties of color, color strategies and working with color's key partner "value." Awareness in watercolor's four variables will be presented to simply break down the thinking process while painting: wetness, composition, value and color.
A must-have class for your mixed media toolbox… The adventure begins. Let's paint!
Anita
Class begins September 15th… learn more HERE!