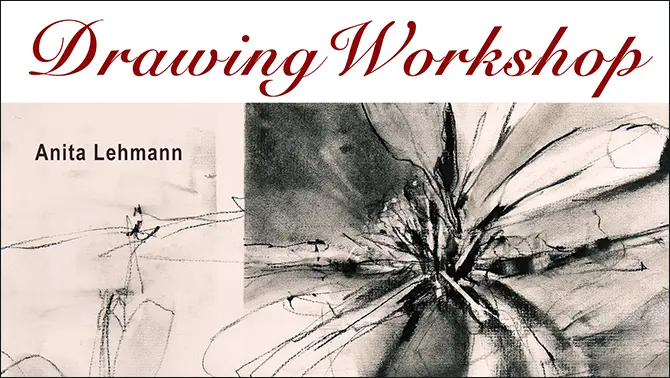 Drawing Workshop
Instructor: Anita Lehmann
Class Dates: May 4-14, 2021
6 Lessons • on sale for $72.25
__________________________________________
From Anita, Class Description:
I love to draw!
Drawing is a part of everything I do as an artist and in this class we will work on slowing down, seeing more deeply and developing confidence. We will practice some fundamental depictive techniques as well as an evocative and personal approach to drawing. We will endeavor to create honest drawings by truly drawing what you see, not what you think you see. All you need are some pencils, some charcoal, some paper and a willingness to have fun!
I believe drawing is about attempting something beyond language and beyond representation; it is a way to experience life. It is my sincere hope these lessons will give you surety in your drawing practice… and I hope you can join me!
Anita
Check out the quick video about the class below!
______________________
From the Depictive..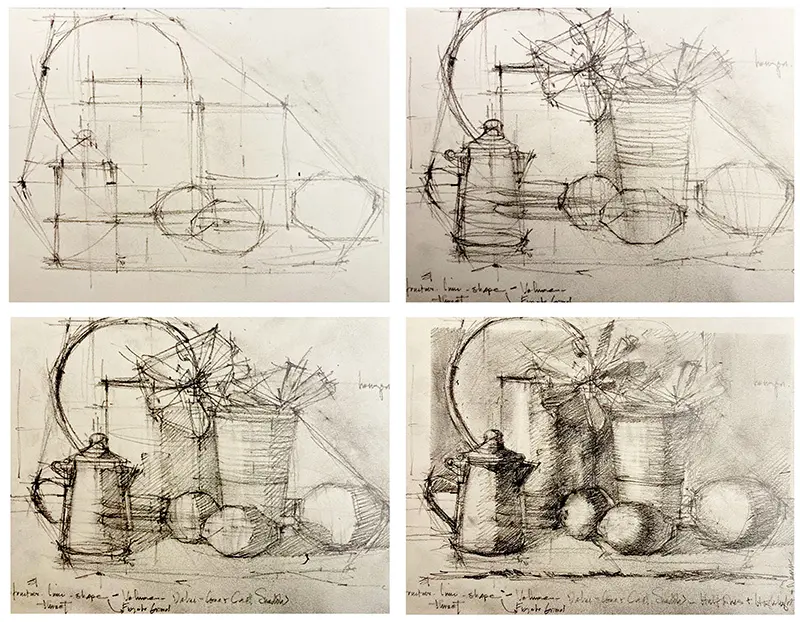 … to the Evocative..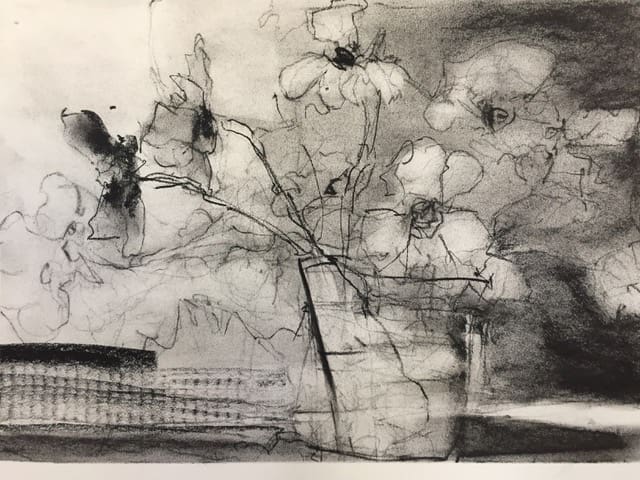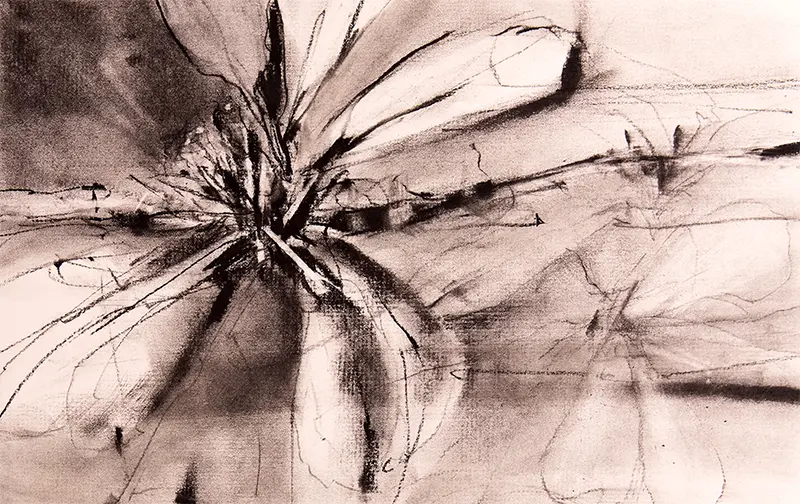 … This is the drawing class I always wanted! Anita deftly gives us the technical bits while leading us through to expressive interpretations… join us for this deep dive into drawing with Anita! — Carla
____________________________________________
Class Itinerary
Lesson 1 – Tuesday, May 4
Lesson 2 – Wednesday, May 5
Lesson3 – Friday, May 7
Lesson 4 – Tuesday, May 11
Lesson 5 – Wednesday, May 12
Lesson 6 – Friday, May 13
____________________________________________
Week 1
Lesson 1 – Slowing Down
We will start with 'upside down' and blind contour drawing processes to unlock the brain to a new awareness and shift to your brain's right side, while defining edges, size, relationships, and angles of what you see (not what you think you see).
Lesson 2 – True Horizontal + True Vertical
In today's exercises we will use a directed straight line when exploring. We'll start with tracing paper, another wonderful tool in discovering shape, size, and relationships. Then we will find the True Horizontals and Verticals from two different images and find the internal thrust of individual elements within the forms to create several diagrammatic drawings. The result will be a structure that is a strong, accurate foundation.
Lesson 3 – Don't Draw the Monkey
"Don't draw the Monkey" is a play on words, of course. When I concentrate on the shapes that surround the monkey shape, voila, the monkey appears all on its own. The "negative" shapes are truthful and very right-brained; they cannot be named and identified, which is such an important tool in drawing and seeing. In this lesson we will also touch on the underlying geometry of the individual elements of our still life.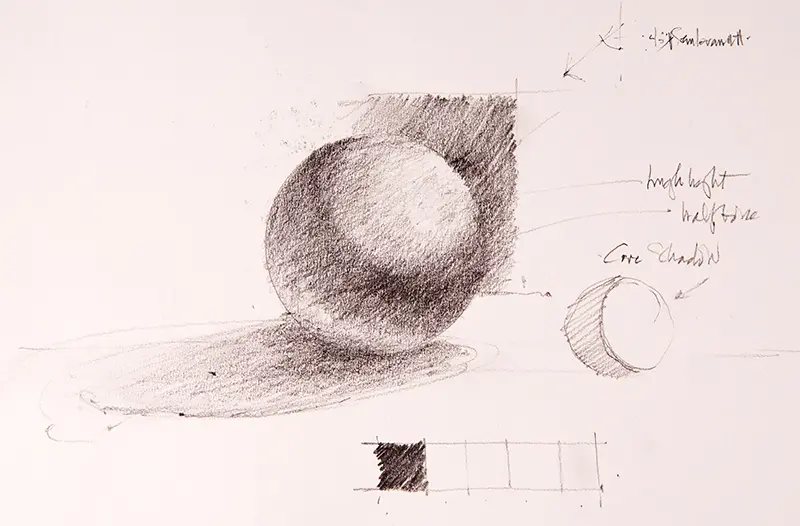 Week 2
Lesson 4 – About that Sphere: Volume + LIght
In this exercise we will identify the light form qualities: core shadow, half tone, cast shadow, reflected light, highlight. The assignment will be to create a vine charcoal and a graphite drawing of a sphere with nuance and beauty.
Lesson 5 – Still Life: The Depictive
Let's put all these concepts together: Line, Shape, Volume and Light and continue the process that creates honest drawings, truly drawing 'what I see, not what I think I see.' We will draw from a still life and work by describing/depicting by measuring, correcting, searching, and exploring with line.
Lesson 6 – Still Life: The Evocative
Think of the Evocative drawing process as putting oneself into the subject, beyond the Depictive. We will study a subject and ask: What is the subject saying to me and what am I saying back to the subject? The process is emotive. The finished drawing may be simple or complicated but always meaningful and personal.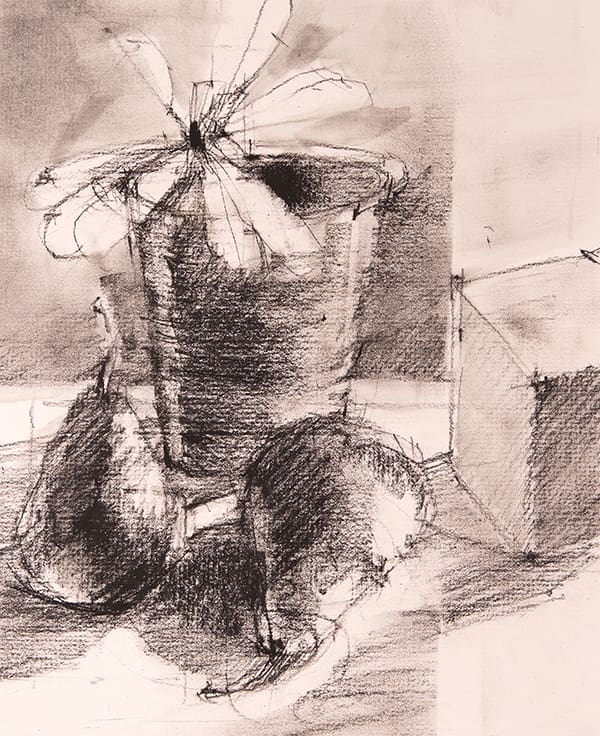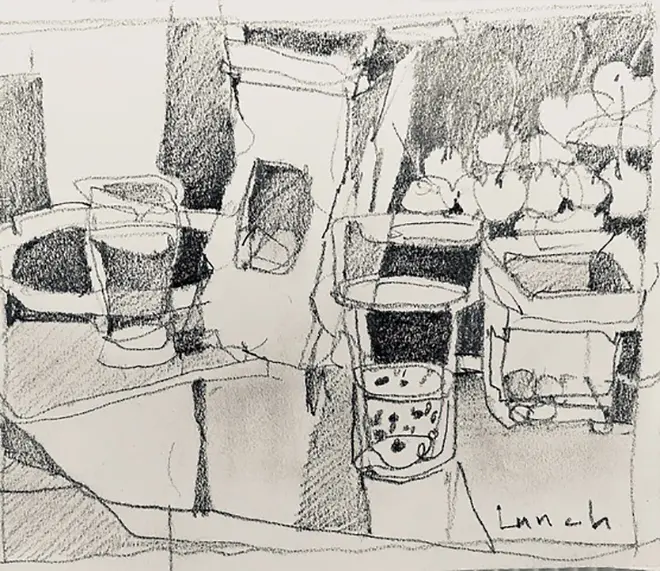 For more information and to sign up, click HERE.